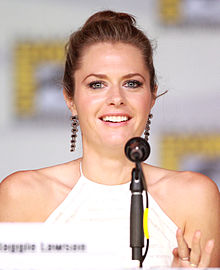 Maggie Lawson got her acting start in 1996, debuting as Madelyn in the TV series Unhappily Ever After. She played the said role recurrently until the following year. She later had one-time roles in other TV shows before getting the part of Jennifer in the sitcom Cybill. In 1998, Lawson had her first movie role in Pleasantville. That same year, she starred in the TV film I've Been Waiting for You. Her next role was as Alexa in the TV drama Party of Five. She had another role in the feature film Nice Guys Sleep Alone and another recurring part in Family Rules.
In the 2000s, she landed the starring role of Eve in the short-lived series Inside Schwartz. After this, she played the title role in the made-for-television film Nancy Drew. Her next roles were in more TV movies: Cheats, Heart of a Stranger, Revenge of the Middle-Aged Woman, and Love Rules. In 2006, she starred as Andrea Malone in the TV series Crumbs. It was, however, her co-lead role as Juliet O'Hara in the USA Network series Psych that got her mainstream attention.
The series aired on television for eight seasons between 2006 and 2014. Simultaneously, she had performances in the films Cleaner, Gamer, and Still Waiting… In 2009, she starred as Lacey Smithsonian in the TV movies Killer Hair and Hostile Makeover. She also starred as Terry Gannon, Jr. in the short-lived show Back in the Game, after which she appeared as Ms. McMartin in Two and a Half Men. She recently reprised her role as Juliet O'Hara in the TV film Psych: The Movie and Psych: The Movie 2.
Lawson maintains her healthy body by eating right and working out. She goes to the gym whenever she has free time. When she gets busy, she makes up for it by consciously being more active in the simplest ways, like walking or using the stairs instead of elevators. The Maggie Lawson workout routine is a combination of cardio and some weight training. She also does yoga and swears by Pilates.