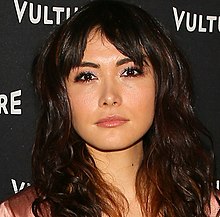 Hollywood star Daniella Pineda had her career beginnings in the 2010s. Her first role was as Kit in an episode of the television series Men of a Certain Age. She also appeared in 3 episodes of the web series CH Originals. Shortly after, she made her feature film debut in Newlyweds, playing the role of Vanessa. Her next role was as Abbie in the movie The Fitzgerald Family Christmas.
She also had one-episode roles in the popular shows Homeland and The Vampire Diaries, the latter of which she played Sophie Devereaux. She reprised the said part in the spin-off series The Originals, which she starred in from 2013 to 2014. She subsequently starred as Ruby Simms in the NBC series American Odyssey, as well as starred in the feature films Sleeping with Other People and Mr. Roosevelt.
She continued her television career, landing the part of Vanessa Randall in the comedy show The Detour. In 2018, she starred as Zia Rodriguez in the film Jurassic World: Fallen Kingdom. This was her first role in a major Hollywood project, gaining her mainstream notice. She will reprise the role in the sequel Jurassic World: Dominion. Pineda also starred in the film Mercy Black. More recently, she starred as Cassidy Barrett in the Netflix series What/If. This year, she appeared in 2 episodes of Dream Corp LLC.
Daniella Pineda stays in great shape by sticking to a nutritious diet plan. While she's into fitness, she also knows that her body's wellness largely comes from the food she eats. As such, she only ocassionally eats red meat. She's since cut back on oily and sugary foods, which means she rarely buys fastfood meals. Instead, her diet plan mostly contains of whole grains, lean meat, fruits, vegetables, and nuts. All these are high in fiber, healthy fats, proteins, and many more nutrients.