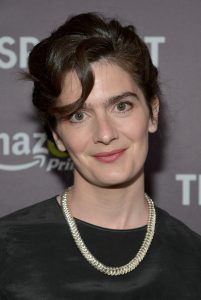 Hollywood actress Gaby Hoffmann had her start in the late 1980s. During her early years, she had roles in the films Field of Dreams and Uncle Buck. In the '90s, she starred in the movies This Is My Life, Sleepless in Seattle, The Man Without a Face, Now and Then, Everyone Says I Love You, and Volcano. She later had roles in 200 Cigarettes, You Can Count on Me, and Perfume, among others. Meanwhile, she made her television debut in the show Someone Like Me. This was followed by performances in the TV movies Freaky Friday and Whose Daughter Is She?.
In the 2010s, she had supporting roles in the movies 13, Goodbye World, Obvious Child, Veronica Mars, and Wild. She also played the titular character in the movie Crystal Fairy & the Magical Cactus. From 2014 to 2015, she became known for playing Caroline Sackler in the HBO series Girls. She's also known for her role as Alexandria "Ali" Pfefferman in Transparent, which she has been playing since 2014.
The 36-year-old actress isn't much into dieting. When asked about how she lost her post-baby weight, the Transparent star said she didn't follow any diet at all. She said: "Getting fit? Are you kidding? All I've been doing is breastfeeding and eating chocolate chip cookies—and eating placenta, which helps." She also credited breastfeeding for her burning calories at a faster rate.
Other than that, the actress pretty much just follows a normal diet, though she focuses on eating the healthy ones, of course. Generally, she stays away from processed and junk foods as much as she could. She knows that having these meals could affect her energy and her overall health. She sticks to lean proteins, whole grains, and fruits and vegetables. She stays away from sugary foods and drinks and goes easy on fatty foods as well. As for her snacks, she tries to concentrate on healthy ones as well. This includes nuts, fruits, and yogurt.