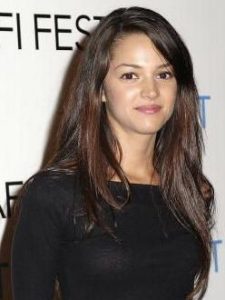 Hollywood star Paula Garcés first acted with a one-episode role in Law & Order back in 1991. That same year, she had her movie debut with a small role in Hangin' with the Homeboys. She next had roles in the films Life with Mikey, Dangerous Minds, and Harvest. She then starred as Pilar Santos in the soap opera Guiding Light. In the 2000s, she played CSU Tech Millie Vizcarrondo in 4 episodes of Law & Order: Special Victims Unit.
After this, she got her major break after landing the part of Officer Tina Hanlon in the crime drama series The Shield. It aired on FX from 2006 to 2008. Also during this period, the actress had performances in the films Clockstoppers, The Station Agent, Marci X, Harold & Kumar Go to White Castle, Man of the House, and National Lampoon's Pledge This!. She later reprised her role as Maria in the sequels Harold & Kumar Escape from Guantanamo Bay and A Very Harold & Kumar 3D Christmas.
In 2009, she starred as Paula Morales in the television series Defying Gravity. Subsequently, she had a recurring character in Warehouse 13 where she played Dr. Kelly Hernandez. She continued her work on TV, playing Lea Marquez in All My Children and Flora Hernandez in Devious Maids. Since 2018, she stars as Geny Martinez in the Netflix series On My Block. Other film roles were in The Maid's Room and Adult Beginners, released in 2013 and 2014, respectively.
Paula Garcés stays in shape by sticking to a clean diet plan. Already in her 40s, she's since stayed away from anything processed. Instead, she relies on nutrient-rich foods to give her energy and maintain overall health. Her meals are mostly composed of proteins, vegetables, and grains. In between meals, she fuels up with smoothies, nuts, fruits, and other healthy snacks. She's also not into liquid diets, even before going to red carpet events. She drinks plenty of water instead to as her way of cleansing.