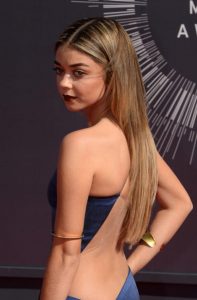 Hollywood star Sarah Hyland is now a well-known actress both on film and TV. Starting her career in the 1990s, her early roles include the films Private Parts, The Object of My Affection, and Annie. She became more active on the small screen the following decade. She had notable roles on One Life to Live and Lipstick Jungle. Afterwards, she landed the role of Haley Dunphy on Modern Family. The series has since become acclaimed and popular, earning the casts of the show mainstream fame. Simultaneously, she starred in some feature films. This includes Struck by Lightning, Scary Movie 5, Vampire Academy, and Date and Switch. Her most recent movie was 2016's XOXO.
The 27-year-old celebrity maintains her slender figure by practicing a healthy lifestyle. Despite just being in her 20s, the actress is already keen in improving her body's form and strength by working out. The petite actress admitted that she doesn't want to look skinny and frail. She said in an interview: "I don't want to have a skinny look, I want to have muscle." This is the reason why the Modern Family star is diligent in her weight lifting practices.
She added: "I started back working out 'cause I was, like, "the holiday's have been rough on me". She then went on to say: "I do a lot of weight lifting. Not big weights or anything like that, but I like to do some strength training so I can be strong." It seems that her weight training is already doing great things on her body. Despite being slim, you could see the Sarah is already forming muscles and her stance isn't that of a weakling. This is great considering that she's really looking forward to being strong. The actress also considers her on-the-go life as part of her workouts.