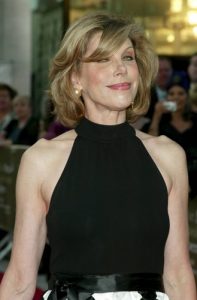 Actress Christine Baranski got her start in the late 1970s, debuting on the show Busting Loose. In the '80s, she had roles in the movies Crackers, 9½ Weeks, and The Pick-up Artist. The following decade, she starred as Maryanne Thorpe on the sitcom Cybill, which aired on television from 1995 to 1998. Her performance here earned her a Primetime Emmy Award for Outstanding Supporting Actress. During this period, she also had supporting roles in the films Addams Family Values, The Birdcage, and Cruel Intentions. In the 2000s, she starred as Marsha Bickner on the short-lived series Welcome to New York.
She next played Annie Brennan on Happy Family and played recurring character Dr. Beverly Hofstadter on The Big Bang Theory. She was also active on the big screen with notable roles in How the Grinch Stole Christmas, Chicago, and Mamma Mia!. From 2009 to 2016, she rose to fame for her role as Diane Lockhart on The Good Wife. Her work here earned her Primetime Emmy nominations for Outstanding Supporting Actress. She reprised her role on the spin-off The Good Fight, which she still currently stars in. Recently, she's also had roles in the movies Into the Woods, Miss Sloane, A Bad Moms Christmas, and Mamma Mia! Here We Go Again.
The actress is already in her 60s but she remains fit and healthy because she practices a clean diet. She also mentioned that even when there's so much food around when she's on set, she manages to eat healthily because most of the foods being served are healthy ones. "Actually, they serve healthy food on the set. For instance, I just had salmon with olive tapenade, summer squash, and some scalloped potatoes. We're also a green set," she said.
She also has a guilty pleasure when it comes to food. She revealed: "I love chocolate ice cream cones. They make me feel like a little girl. We have a great ice cream place in Connecticut, and when I was pregnant with my second child, I would literally go every single night, and my husband had to drive me."