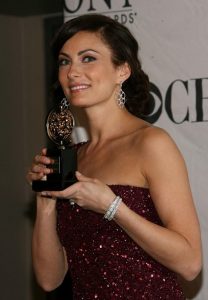 It was in 2005 that actress Laura Benanti professionally started her career, debuting as Billie Frasier on the show Starved. She next made her big screen debut in the 2006 film Take the Lead. She also appeared in the film Falling for Grace. Following this, she played Beth Keller on the show Eli Stone. Her television career became more prolific in the 2010s, first appearing as Carol-Lynne Cunningham on The Playboy Club. She then became known for her role as Maria Grazie on Law & Order: Special Victims Unit.
She also joined the main cast of the NBC sitcom Go On as Lauren Bennett, after which she played Shelby Shackleford on Royal Pains. Her next role was as Mia Peyton on Nurse Jackie, followed by her portrayal of Sadie Stone on Nashville. From 2015 to 2016, she played Alura Zor-El / Astra In-Ze on Supergirl. Starting 2016, she's been portraying Melania Trump on the late night talk show The Late Show with Stephen Colbert. She also currently stars as Edie Randall on the TBS comedy series The Detour. She later voiced Lady Caine on the made-for-television animated film Tangled: Before Ever After. She's also a prolific stage actress who's earned several awards and nominations.
The actress takes care of herself by eating healthily and following an active lifestyle. One of the things she does for exercise is meditation. She believes that performing something for her mental wellness also affects her physical well-being She said in an interview: "I meditate twice a day. My teacher is Emily Fletcher at ZivaMind." As for her go-to workout moves before she performs on stage, she said she jumps "on the elliptical in the fitness center before getting onstage." She also loves to walk, which she does as much as she can. When it comes to her fitness regimen, she likes to mix things up to avoid getting bored.