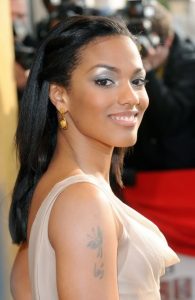 English star Freema Agyeman first appeared as Lola Wise on the British soap opera Crossroads. This marked her acting debut. She next made guest appearances on The Bill and Silent Witness. In 2006, she first played Adeola Oshodi in an episode of Doctor Who. She returned to the show playing a different character, this time as Martha Jones on Series 3 and 4. This was her first notable work on television.
She also appeared as herself on Doctor Who Confidential and Totally Doctor Who. Meanwhile, in the movies, she had her first film role in Rulers and Dealers, released in 2006. From 2008 to 2010, she was the narrator of the show Bizarre ER. At the same time, she starred as Tattycoram on the miniseries Little Dorrit, as well as appeared as Jenny Walsh in 2 episodes of the TV series Survivors.
She then joined the main cast of Law & Order: UK as Alesha Phillips, playing the said role from 2009 to 2012. She simultaneously starred as Shelly Periwinkle on the children's series Old Jack's Boat. She became further known for her role as Amanita Caplan on the Netflix series Sense 8. After it ended in 2018, she began starring as Dr. Helen Sharpe on the NBC series New Amsterdam, gaining her more recognition in the US.
The actress practices a healthy lifestyle, which includes a regular workout routine and clean diet plan. Her diet ways are simple — she eats healthy foods, stays away from junk ones, and never skip breakfast. Eating a healthy meal in the morning helps her stay energetic for the rest of the day. It also helps her avoid feeling hungry in between meals. Her go-to breakfast is usually some egg or a bowl of oatmeal. The protein and fiber in these foods help fuel her body throughout the day. For lunch, it's usually some protein from fish or chicken with salad on the side. She also eats lots of fruits as snacks.