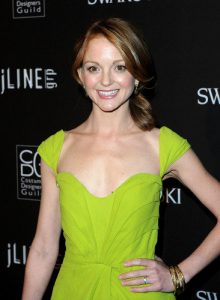 Hollywood actress Jayma Mays had her career beginnings in the mid-2000s. She debuted with a one-episode role in the sitcom Joey. She next had other one-time roles in The Comeback, Six Feet Under, and Stacked. In 2005, she made her cinematic debut in the film Red Eye. She next had appearances in the films Blind Dating, Flags of Our Fathers, Epic Movie, and Get Smart's Bruce and Lloyd: Out of Control. She next co-starred in the comedy film Paul Blart: Mall Cop. Back on television, she continued making guest appearances in House, Studio 60 on the Sunset Strip, and Entourage. She became known for her recurring character as Charlie Andrews in the NBC series Heroes.
She also played the role of Charlie in the ABC series Ugly Betty. Other guest appearances on TV include Ghost Whisperer, Pushing Daisies, and Back to You. She went on to garner mainstream prominence for starring as Emma Pillsbury in Fox's Glee. She was part of the main cast from seasons 1-3 and was a recurring character from seasons 4-6. Simultaneously, she starred as Trixie Von Stein in The League and as Debbie in the sitcom The Millers. She also played Suzi Sasso in the comedy series Getting On. After Glee, she was the voice of Dulcinea in The Adventures of Puss in Boots. As of 2017, she stars as Carol Anne Keane in the sitcom Trial & Error. In the movies, she's also known for starring as Grace Winslow in The Smurfs and The Smurfs 2. Her latest film role was as Dana Sibota in 2017's American Made.
Apart from her healthy diet plan, the actress maintains her overall healthy by sticking to an active lifestyle. She hits the gym whenever she can where she takes some classes that she loves. She does cardio exercises most of the time. However, she also likes to spice things up by trying other types of fitness regimen. She also wants to make her physical activity as natural as possible. So, she likes to walk, as well as engage herself in sports and other outdoor activities.