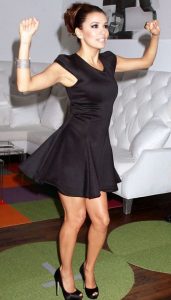 Eva Longoria is a Hollywood actress, who, prior to earning fame as one, began her entertainment journey in beauty pageants. When she decided to pursue acting full-time, she immediately got her break on the soap opera The Young and the Restless, which then led her to star on the primetime hit series Desperate Housewives. For her role on the show, she was nominated for a Golden Globe Award for Best Performance by an Actress in a Television Series – Musical or Comedy. After the show ended in 2012, she starred on the TV shows Mother Up! and Telenovela. On the big screen, she's best known for her roles in The Sentinel, Harsh Times, and Over Her Dead Body.
The 41-year-old actress is not only recognized by her great talents, but also by her undeniable sex appeal, something that a woman in her 40s rarely has. It would seem that Eva is an exemption because she doesn't seem to be affected by the ravages of time. Her face looks fresh and her body is still gorgeous. For this reason, fans wonder what the actress' diet plans are, as well as her workout routine. Suffice to say that the actress eats clean and healthy food most of the time, thus, her fit figure.
It is also interesting to know that Eva was an aerobics instructor before she entered acting industry, so she realy knows her thing when it comes to the exercises that her body needs. With this, it became known that Eva does not really focus on cardio exercises, but rather on doing compound movements. While she does cardio to get her heart going, she doesn't focus all her energy on it. Compound movements, on the other hand, when done properly, force one's body to burn fat for energy. Her workout routine is also about fast-paced circuits. Her trainer also uses a stability ball for many of her exercises.