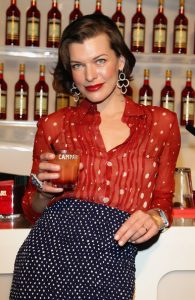 Milla Jovovich rose to stardom courtesy of her kick-ass roles as a female hero. Her first movie was in the erotic film Two Moon Junction and was noticed for starring in Return to the Blue Lagoon. It was, however, in The Fifth Element with Bruce Willis that many critics and moviegoers really, really noticed the actress. To make it more interesting, she was chosen by Luc Besson to play Joan of Arc in the movie The Messenger: The Story of Joan of Arc. Among international audiences, she is best known for playing Alice in all the Resident Evil films. Other movies in Hollywood are Zoolander, Ultraviolet, A Perfect Getaway, The Three Musketeers, and most recently, Zoolander No. 2.
The Ukrainian beauty really made it big in Hollywood, thanks to her strong presence on the screen. She's one of those actresses in the business who can pull off a classic femme fatale look without even trying. Being mostly in action films, the actress has managed to maintain her slender and lean figure through careful diet planning. She makes sure she only eats right and healthy. She usually avoids eating oily food, as well as those with sugar. She focuses on eating healthy carbs, lean protein, and fruits and vegetables.
However, her body changed during her first pregnancy with her daughter Ever. She gained weight while pregnant due to her overeating. But this didn't stop her from regaining her fit body through workouts and a disciplined dietary regimen after giving birth. She was advised to have three meals and two snacks daily with these important elements – protein, complex carbs, fiber, fat and fluids. In the morning, she had cereal with non-fat milk and tea, 1 slice fat-free cheese, 1-2 apples, and water for snack, Thai chicken lettuce wraps, no-flour tortilla, and water for lunch, turkey jerky and steamed veggies for her afternoon snack, and steamed salmon, whole grain pilaf, green tea or water for dinner. This was so effective that she lost 62 pounds at the time.