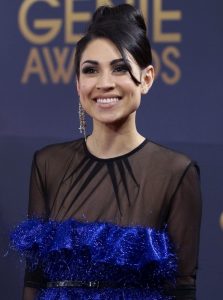 Canadian star Cassie Steele is an actress, singer, and songwriter. In 2001, she debuted as Manny Santos in the popular teen series Degrassi: The Next Generation. She played the said role until 2010. Simultaneously, she pursued a musical career, releasing her debut album How Much for Happy. Her second and latest album, Destructo Doll, was released in 2009. Also in the 2000s, she starred in the TV movie Full-Court Miracle. She then made notable guest appearances in the TV shows The Best Years and Instant Star.
Steele went on to reprise her role as Manny Santos in the made-for-television films Degrassi Goes Hollywood and Degrassi Takes Manhattan. In 2010, she starred in the TV movie My Babysitter's a Vampire. Continuing her career the following decade, she starred as Abby Vargas in the drama series The L.A. Complex. After this was canceled, she starred in a few TV films. She also had a recurring role in the adult animated series Rick and Morty. Since then, Steele mostly worked in television movies. Her latest role was in the 2018 independent film Paint it Red.
To stay in shape, the Canadian celebrity exercises and swears by yoga. As for dieting, she said it's not for her. "I don't diet, even on the series my weight fluctuates," said Steele. "I'm happy not dieting, it made me so unhappy thinking about everything." In another interview, the actress-singer also shared how she used to be a vegetarian but she has since switched to just eating whatever she likes.
"If I try to diet for my work, it backfires and I'll just rebel and have like 10 hamburgers in a day. I can out eat anybody. I used to be a vegetarian, and then one day I just quit," revealed Steele. "Everyday is pizza, and chicken wings. I try not to limit myself to what I eat. Just everything in moderation, obviously. I guess moderation would be the wrong word, because I really just eat everything."