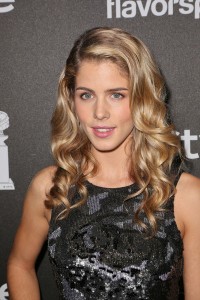 Canadian star Emily Bett Rickards is now a television staple courtesy of her amazing and remarkable portrayal of Felicity Smoak in Arrow. The said television show was actually her debut on the screen, along with the low-budget movie Random Acts of Romance in 2012. That same year, she appeared in the direct-to-DVD film Flicka: Country Pride. While starring in Arrow, she had a role in Cowgirls 'N Angels 2: Dakota's Summer in 2014. She has also played as Felicity in the spin-off series The Flash. In addition to all these, she starred in the made-for-television movie Romeo Killer: The Chris Porco Story and played a role in the 2015 romantic drama feature Brooklyn.
The 24-year-old actress' sudden rise to popularity is not luck. Her talents and charm made this possible. Now she has regular work on the small screen and occasionally acts in movies as well, most notable in the recently released well-received movie Brooklyn, which was even nominated for Best Picture at the Oscars. For sure, Emily has a promising road ahead of her, considering she got her breakthrough on her acting and screen debut in 2012. Though she plays a sassy hacker on Arrow who mostly does her best work on a chair unlike her co-stars who do the fighting, it doesn't mean that the actress does not practice a healthy lifestyle to get fit.
Aside from working out, she makes sure she has nutritious consumption of foods. She doesn't need to do any fighting scenes to make it a necessity for her to be healthy and full energy. Working long hours is already a strong motivation for her to take care of herself. Plus, her co-stars probably influence her to practice healthier eating habits in addition to exercises. With this, she mostly eats whole-grain cereal for fiber and complex carbs, broccoli and vegetable juices for Vitamin C and anti-oxidants, and eats fish and mackerel for proteins.