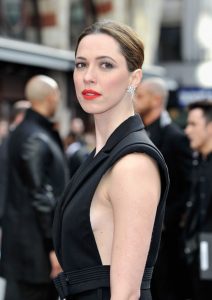 It was in 1992 that actress Rebecca Hall started her career. Her first role was in The Camomile Lawn, but it was in the 2000s that she became more active as an actress. She made her film debut in 2006's Starter for 10. That same year, she starred in Christopher Nolan's The Prestige, which became her breakthrough role. Two years later, she starred as one of the leads in Woody Allen's Vicky Cristina Barcelona, which got her a Golden Globe nomination for Best Actress. She followed this with other major films, including Frost/Nixon and Dorian Gray.
In 2010, she starred opposite Ben Affleck in the crime thriller The Town. She next starred in the suspense feature The Awakening. Subsequently, she portrayed Maya Hansen in the superhero movie Iron Man 3. In 2016, she portrayed Christine Chubbuck in the biographical drama Christine, for which her performance was widely acclaimed. Last year, she portrayed Elizabeth Holloway Marston in the movie Professor Marston and the Wonder Women. She has two upcoming films this year.
Standing at 5'9, Rebecca Hall has a slender, toned body, which she maintains by regularly working out. She confirmed her inclination to fitness activities in an interview. During this time, she was asked how she practices beauty inside and out, to which she answered: "Equal parts yoga, heavy lifting and meditation to laughter, silliness and cocktails."
Given this, it appears that the actress practices balance in her workout routine. She engages in weight exercises while also performing calming workouts such as yoga and other forms of meditation. Of course, Rebecca also does cardio exercises as part of her entire workout routine. Despite her crazy schedule, she tries her best to work out as regularly as possible. She also loves doing outdoor activities like hiking and playing sports in order to have a variety of physical activities.