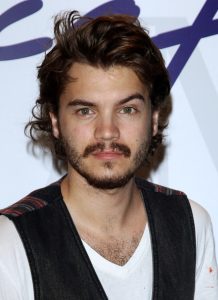 Hollywood actor Emile Hirsch got his career start in the mid-1990s making his debut in an episode of the show Kindred: The Embraced. He next landed guest roles in the TV shows Early Edition, Players, and Sabrina, the Teenage Witch, among others. He also played the young Houdini in the made-for-television film Houdini. In 2001, he made his big screen debut in the movie Wild Iris. His next film performances were in The Dangerous Lives of Altar Boys and The Emperor's Club. For his role in the latter, he was nominated for Best Supporting Young Actor at the Young Artist Awards.
He gained further fame after starring as Matthew Kidman in the movie The Girl Next Door. Following this, he portrayed Jay Adams in Lords of Dogtown. In 2007, he was acclaimed for his portrayal of Chris McCandless in the film Into the Wild. He next played the lead in Speed Racer and portrayed Cleve Jones in Milk. In the 2010s, he starred in the movies Killer Joe, The Darkest Hour, Savages, and Lone Survivor. He went on to play Clyde Barrow in the miniseries Bonnie & Clyde. This year, he starred in An Evening with Beverly Luff Linn and The Outsider. He will also play Jay Sebring in the upcoming film Once Upon a Time in Hollywood.
The actor takes his film roles seriously. He does everything it takes to look like the part he's going to play. That means he undergoes intense physical training and modifies his diet to either lose or gain weight and to also build muscles when needed. When asked about his diet in an interview, he revealed that he's practicing the Paleo diet.
He said: "I'm on this program right now called the Paleo diet, which is taken from the Paleolithic era. It's more of a selective lifestyle where you stop eating complex carbohydrates." He went on to say: "You're trying to eat like cave people used to eat; the foods that our ancestors would have found easy to digest. I love it. You get more energy, and I've been able to feel my muscles develop because you're getting so much protein."