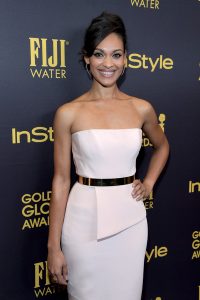 Hollywood star Cynthia Addai-Robinson had her career beginnings in the early 2000s. Some of her early works include guest roles in such television shows as The Education of Max Bickford, Law & Order: Trial by Jury, and Justice. Her first recurring role was as Debbie in the series FlashForward. She went to earn more significant roles in the 2010s. During this period, she made her movie debut in Colombiana.
She also had her first starring role on the small screen. This was as Naevia in Spartacus: Vengeance and Spartacus: War of the Damned. She also starred in the TV film Jodi Arias: Dirty Little Secret. She later became known for her role as Amanda Waller in Arrow. She went on to land the role of Emily West in the short-lived series Texas Rising. She also appeared in the movie The Accountant. Since 2016, she plays the main role of Nadine Memphis in Shooter.
Cynthia Addai-Robinson usually plays strong female roles. This is especially true when she starred in Spartacus. For her role in the show, she revealed that she went through intense training to improve her physique and strength. She said about her fitness journey for the show: "I wasn't aware of the level of physicality it was going to get to. I had to catch up to my own character. She is a fierce rebel fighter, and I had to believably portray that." She revealed that she and her co-stars underwent a boot camp to prepare for it.
Recalling the experience, she said: "The first week I didn't think I could get through it. But it was more of a mental than a physical challenge. Once I understood that, it became easier." She also said how yoga helped her gain an edge. She explained: "Thanks to workouts like yoga, I'm very aware of what feels right and what doesn't."She also knows that she doesn't need to overdo it to gain notable results. She said: "I make a point not to overextend myself. If I fight for several hours on set, that's my workout for the day."