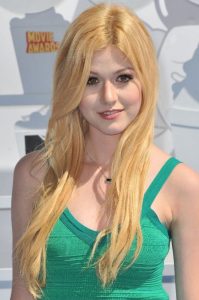 American star Katherine McNamara is now a well-known television star. This is thanks to her lead role on the TV series Shadowhunters. She started playing the role recently this year. But Katherine actually started her show business journey in the mid 2000s. After some stints on short films, she had guest appearances on TV. She also appeared in low-budget films. In 2012, she was cast in the unaired pilot Madison High. Despite this, she was not discouraged and continued her work on TV. She then appeared in the Disney TV film Girl vs. Monster. Her first main role on TV was on Happyland. She next starred on the TV movie R.L. Stine's Monsterville: Cabinet of Souls. Afterwards, she secured the lead role of Clary Fray on Shadowhunters.
The young actress will only turn 21 this year. Standing at around 5'5, Katherine is noticeable for her slender physique. It seems that the young star is natural slim. Considering she's very young, this shouldn't be surprising. Her metabolism is still pretty fast that her body quickly digests and burns whatever she eats. Since she's only in her early 20s, Katherine allows herself to eat whatever she wants. She loves food and it makes her happy to satisfy her cravings.
At the same time, she knows that constant habits of eating unhealthy food will take its toll in the future. For this reason, she also tries to eat healthy food. She likes eating chicken and fish, which are great sources of lean protein. In the morning, she loves having cereal with almond milk. She sometimes has egg and a toast with hot cocoa. For lunch, she has chicken or steak with fruits and veggies. For dinner, she has rice and meat, or pasta with meat as well. She's okay with eating veggies and fruits. For snacks, she likes yogurt and fruit shakes. But she also loves burgers, fries, chips, and pizza.