Early Life and Career Breakthrough
Elizabeth Chase Olsen was born on February 16, 1989 in Sherman Oaks, California to personal manager Jarnette Jones and real estate developer and mortgage banker David Olsen. She is the younger sister of twins Mary-Kate and Ashley Olsen. She has an older brother, Trent and has two younger half siblings as well.
From kindergarten to 12th grade, she attended Campbell Hall School in North Hollywood. After graduating, she enrolled at New York University's Tisch School of the Arts. She then spent a semester studying at the Moscow Art Theatre School through the MATS program at The Eugene O'Neill Theater Center.
She studied ballet and took singing lessons as a child and started acting at an early age as well by appearing in her sisters' films. In 1994, at age five, she had a cameo appearance in the television film How the West Was Fun, starring her Mary-Kate and Ashley.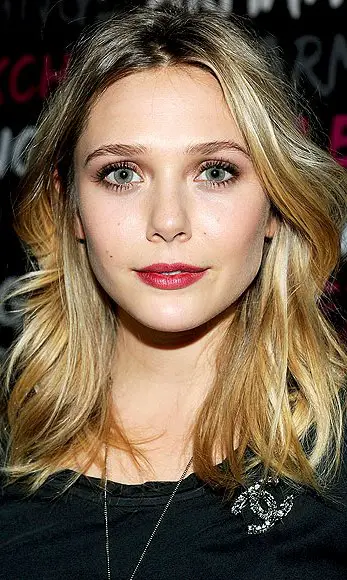 She also had a small role in the direct-to-video series The Adventures of Mary-Kate & Ashley. By the time she was in the fourth grade, she started to find acting opportunities on her own by going to auditions for other projects, like auditioning for the 2001 film Spy Kids.
In 2004, she almost gave her acting aspirations up due to the controversial reports regarding her sister Mary-Kate's eating disorder. She still pursued acting and got her breakthrough in 2011 when she starred as Martha in the drama thriller movie Martha Marcy May Marlene.
Martha Marcy May Marlene garnered widespread acclaim and Olsen's performance was also highly praised by critics, receiving various awards, including a Broadcast Film Critics Association Award for Best Actress, a Chicago Film Critics Association Award for Most Promising Performer and a Los Angeles Film Critics Association—New Generation Award.
She also garnered multiple nominations for her performance as Martha such as a Gotham Award for Best Breakthrough Actress, an Independent Spirit Award for Best Female Lead, a Satellite Award for Best Actress – Motion Picture, and Saturn Award for Best Actress.
In 2012, she appeared as Zoe in the independent comedy-drama movie Peace, Love and Misunderstanding, which received negative reviews from critics. Later that year, she starred as Sarah in the independent horror film Silent House, which premiered at the Sundance Film Festival.
Despite the movie's mixed reviews, Olsen's performance was once again lauded by critics with The Daily Telegraph saying that it was "brilliantly nervy and detailed". Silent House also became commercially successful, grossing over $13 million on a $2 million budget.
Also in 2012, she appeared as Sally Owen in the Spanish-American thriller film Red Lights, which premiered at the Sundance Film Festival and received a limited release in the US. Red Lights garnered negative reviews from critics and was a box office failure as well.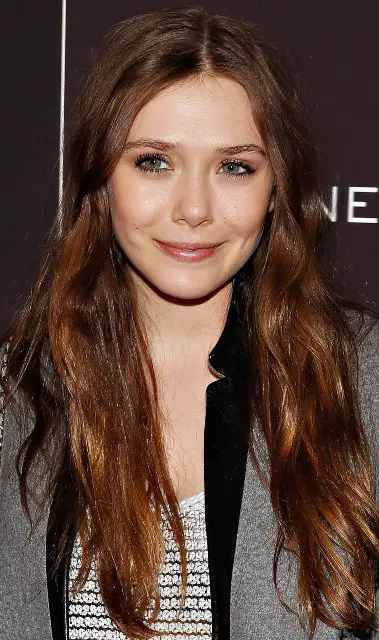 Subsequent Films and Plastic Surgery
She next starred as Zibby in the comedy-drama feature Liberal Arts. It also premiered at the Sundance Film Festival in 2012 and mostly received good reviews from critics.
In 2013, she appeared in the biographical film Kill Your Darlings as Edie Parker, in the American remake of Park Chan-wook's 2003 South Korean cult film, Oldboy as Marie Sebastian and in the erotic feature In Secret playing the role of Thérèse Raquin.
In 2014, she made a cameo appearance as Wanda Maximoff in the superhero film Captain America: The Winter Soldier. She then achieved wider mainstream stardom for her portrayal of Elle Brody in the science fiction monster film Godzilla, starring alongside Aaron Taylor-Johnson, Ken Watanabe, Juliette Binoche, Sally Hawkins, David Strathairn and Bryan Cranston. Godzilla garnered positive reviews from critics and was also a box office success.
Olsen first gained recognition as Mary-Kate and Ashley Olsen's younger sister but the 25-year-old actress is now making a name for herself in the film industry by playing critically acclaimed roles in a series of diverse films. As people get to know her, they also begin to wonder if she ever has gone under the knife for a dramatic transformation.
Her older twin sisters are rumored to have undergone a matching nose jobs so now that the younger Olsen is in the spotlight, could it be possible that she has followed her sisters' plastic surgery footsteps? Many people think she has never had anything done as she looks so natural and untouched.
New York City plastic surgeon Dr. David Shafer said that it's hard to tell whether the actress has gone the under the knife as there are no previous photos that could be use as a source of comparison to her present appearance. Miami plastic surgeon Dr. Michael Salzhauer, on the other hand, claimed that Olsen is all natural, saying: "Elizabeth Olsen appears to be a naturally beautiful young woman. Her nose does not appear to have been altered and her lips, although very full, look very natural."