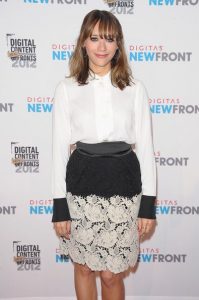 American celebrity Rashida Jones was already active in performing arts while a student at Harvard University. After she graduated, she pursued a professional acting career. During her initial years, she appeared in a couple of films and guest starred on TV shows. Her first significant role was as Louisa Fenn on the TV series Boston Public. She next appeared on the shows NY-LON and Wanted. Afterwards, she got recognized for playing Karen Filippelli on the comedy series The Office.
She next joined the main cast of the short-lived sitcom Unhitched. It was, however, her role as Ann Perkins on Parks and Recreation that made her a household name. During this time she also became more active on film. She had notable roles in the movies I Love You, Man, Cop Out, The Social Network, Our Idiot Brother and The Muppets. She was praised for her work in Celeste and Jesse Forever, a movie she also co-wrote. She went on to star on the short-lived series A to Z. As of 2016, she plays the lead on the comedy series Angie Tribeca.
The 40-year-old actress remains slender and toned. Though she's struggled with her weight when she was younger, it's all over now for her. This is simply because she's now much healthier and she tries her overall lifestyle to be as clean as ever. Aside from sticking to proper nutrition to maintain her toned figure, she's also being more physically active. She tries her best to stick to an exercise routine regularly.
One of the workouts she loves is Pilates. She actually credits her now toned and amazing figure and overall wellness to Pilates. She said in an interview: "My core felt so weak, I'd cry. But now I feel lean and toned." She however admitted that she's not always in the mood to work out. She said: "I hate to exercise more than anything when I am on my way to the gym. [But] I love exercise more than anything as soon as I leave the gym and for the rest of the day." Being a fan of the show So You Think You Can Dance, she finds her motivation from watching the contestants display their strength and power.