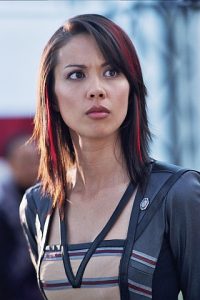 Canadian star Lexa Doig had her career beginnings in 1993, initially debuting in an episode of The Hidden Room. She next played a notable role in the Canadian TV movie TekWar, which she reprised in the sequel TekWar: TekLords, as well as in the TV series version TekWar. In 1995, she made her first film appearance Jungleground. She later played the voice of Dale Arden in the animated series Flash Gordon. Later in 1999, she starred as Tina Backus in the British show CI5: The New Professionals.
Doig then appeared as M.J. Sullivan in 5 episodes of Traders. In 2001, the actress played a supporting role in the film Jason X. She also had performances in the TV movies Code Name Phoenix, The Tracker, and Second Sight, as well as in the miniseries Human Cargo. At the same time, she appeared as Wendy Paulson in 4 episodes of the sci-fi series The 4400. More notably, Doig starred as Andromeda Ascendant/Rommie in the television series Andromeda. She then became further known for her playing the part of Dr. Carolyn Lam in Stargate SG-1.
In the 2010s, she continued her work on television. She played the role of Dr. Leah Pearlman in V and Dr. Christina Lamell in Smallville. Between 2012 and 2015, she starred as Sonya Valentine in Continuum. She simultaneously played recurring character Petra Hossa in Arctic Air. More recently, she was chosen to portray Talia al Ghul in The CW's Arrow. Around this period, she also starred as Deann Anderson in the US series The Arrangement. She currently stars as Paige Lassiter in the new Netflix series Virgin River.
Lexa Doig stays in shape by following a healthy diet. Being in her late 40s, she's since cut back on sugary and salty foods, which means she rarely eats processed and junk foods. Instead, she focused to having a clean, whole foods diet that's mostly composed of veggies and fruits. She also adds whole grains, complex carbs, and lean proteins into her diet, as well as the consumption of foods that are high in fiber and numerous other nutrients.