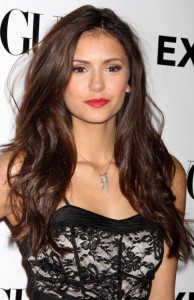 26-year-old cutie Nina Dobrev is certainly a likable presence on the screen. Starting her career on the Canadian series Degrassi: The Next Generation in the late 2000s, Nina has since established her career for the better. Before getting her breakout role as Elena Gilbert in The Vampire Diaries, the Bulgarian-born actress starred in several TV movies first. She has also appeared in such films like Fugitive Pieces, The Poet, and Chloe.
Apparently, it was in The Vampire Diaries that cemented her fame, especially to young audiences. She was the show's lead star from Season 1-6 as she recently announced she would leave the series after the sixth season. This made her fans disappointed, of course. But this also makes Nina has more opportunities to explore other projects in Hollywood. She's already had some roles in well-known movies recently like in The Roommate and The Perks of Being a Wallflower. Her most recent movie was in The Final Girls (2015).
Standing at 5'7, Nina's slim figure arouses envy from girls. Although being thin is probably part of her genes, the actress doesn't take chances and refuse to be complacent. After all, it's not just about being slim but also being fit and healthy. Thus, she engages in various exercises and sets a diet plan for herself as well. Amazingly, she has attempted the vegan diet before. For four months, she stayed away from animal proteins. Unfortunately, being vegan didn't work on her so she stopped and went back to her normal diet routine.
Nina is also not a fan of fad diet plans. She believes it makes you nothing but unhealthy and messes with your mind that it affects one's temper. Normally, the actress munches on low carb foods, though she makes sure what she eats are not too low on carbs and calories so as to make them deficient of nutrients. Practicing a balanced diet, she prefers green vegetables, lean protein, whole grains, and healthy fats. Occasionally, she also indulges on processed foods but is cautious on the amount she's having.