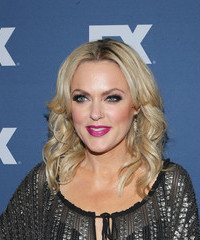 Hollywood star Elaine Hendrix started her career during the 1990s with one-time roles on TV. Later, she got the part of Agent 66 in the short-lived show Get Smart. During this period, she also acted in many independent films and TV movies. Her first notable role on the big-screen was as Lisa Luder in the comedy movie Romy and Michele's High School Reunion. After this, she played Meredith Blake in the family comedy film The Parent Trap.
She went on to star in the films Molly and Superstar. The following decade, she starred as Kristen Martin in The Chronicle, after which she guest-starred in numerous shows. She then played Ms. Lischak in TV's Joan of Arcadia. Between 2009 and 2011, she played Pauline in Poor Paul. Also in the 2000s, Hendrix had performances in the films Here on Earth, Get Your Stuff, Wish You Were Dead, Inspector Gadget 2, Coffee Date, and The Dukes, among others.
She later played Renee in the remake 90210. In 2014, she played recurring role Warden Hartley in Anger Management. From 2015 to 2016, she starred as Ava in Sex & Drugs & Rock & Roll. More recently, she starred as Susan Andrews in Proven Innocent. Hendrix currently stars as Alexis Carrington in the primetime soap opera Dynasty. Her latest film roles were in 2019's Adopt a Highway and Burying Yasmeen.
Elaine Hendrix stays in shape by eating healthily. In an interview, she got candid about her food choices. One of her go-to breakfast is oatmeal. "I love making what I call oatmeal supreme: I put crushed nuts and granola in it," said the actress "I always boost my food. I'll put chlorophyll in with my oatmeal or mix chia seeds and almond milk with crushed walnuts so I'm getting lots of good omegas and proteins."
She's also big on smoothies. As for her preference, she said: "I'm really big on making smoothies. I always put a banana in, and either almond milk or coconut yogurt, and then some type of protein powder. I'll rotate fruits; sometimes I'll add peaches, sometimes strawberries."