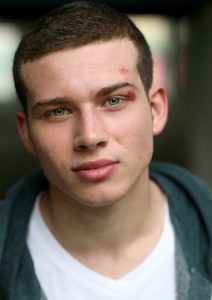 In 2011, actor Oliver Stark first appeared as Kyle 'K' DeNane in one episode of Casualty. Afterward, he made his film debut in the movie Community. He next appeared in the film The Adventurer: Curse of the Midas Box. At the same time, he made guest roles in the television shows Luther, Big Bad World, Dracula, and Venus vs. Mars. He also landed movie roles, appearing in such films as Montana, Hard Tide, and Underworld: Blood Wars.
Stark gained wider recognition when he landed the part of Ryder in the AMC series Into The Badlands, a role he starred in from 2015 to 2017. Afterward, he had a performance in the feature film MindGamers. After Into The Badlands ended, he successfully auditioned for the role of Evan 'Buck' Buckley in the Fox series 9-1-1. Playing as one of the main actors on the show has since certainly contributed to his television stardom. He's also gained a Teen Choice nomination for his role. The series was also recently renewed for a fourth season.
Oliver Stark trains diligently to keep his body in top shape. His workouts aren't only for personal reasons, it's also for staying fit and strong when working. Playing a firefighter in 9-1-1, he said he bases his training from the character he plays. "I play a firefighter, so I train like one. [It's] a lot of carrying, dragging, and pulling heavy sandbags and using kettlebells so I can build strength through different planes," said the actor.
In addition to his vigorous workout routine, the actor also nourishes his body with the right food. He likes to eat fruits in particular. "I consider fruit to be the most healing thing for the body, so it makes up a huge percentage of my diet," he shared. Another healthy habit he tries to follow is getting enough sleep.