Early Years to Worldwide Fame
Drew Blyth Barrymore was born on February 22, 1975 in Culver City, California to parents American actor John Drew Barrymore and aspiring actress Jaid Barrymore. Her parents divorced in 1984 when she was nine. Barrymore was born into a family of actors; her great-grandparents being Maurice Barrymore and Georgie Drew Barrymore, Maurice Costello and Mae Costello and her grandparents John Barrymore and Dolores Costello, were also actors.
In 1980, at the age of five, she made her film debut with Altered States, playing a minor role. The following year, she won the role of Gertie in Steven Spielberg's E.T. the Extra-Terrestrial. Her performance earned her the Young Artist Award for Best Young Supporting Actress in a Motion Picture. The role also made her one of the popular child stars at that time.
In 1984, she starred in Irreconcilable Differences, receiving acclaim for her performance and for which she was nominated for the Golden Globe for Best Supporting Actress in a Motion Picture. In the wake of her instant fame, Barrymore became the center of attention as she entered a rebellious phase.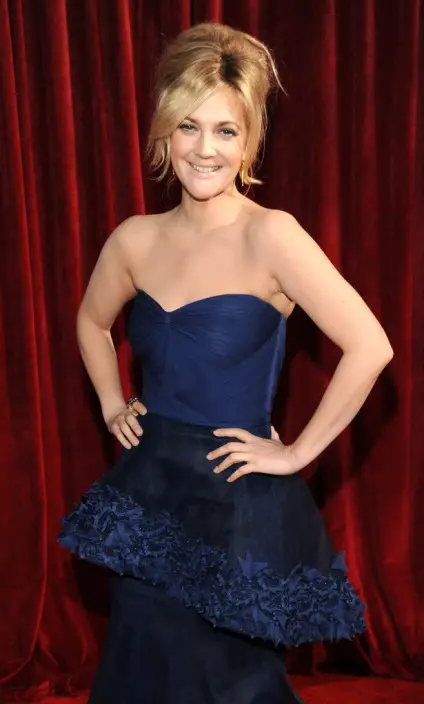 As a child, she was already a regular at the famous New York nightclub Studio 54. She smoked cigarettes at the age of nine, drank alcohol when she was 11, smoked marijuana at age 12 and tried cocaine by the time she was 13. Her hard partying and her night life had been widely covered by the media prompting concerns. At age 14, she was sent to a rehab. During this time, she also attempted suicide, putting her back to rehab.
Following her rehab and her 3-month stay with singer David Crosby and his wife, she filed for emancipation and went on to move into her own apartment. In 1992, she returned to film as Ivy in Poision Ivy. That same year, she appeared nude on the cover of Interview magazine for its July issue.
In 1993, she received her second Golden Globe nomination for her performance in Guncrazy. Her notoriety increased as she posed nude again for the cover of Playboy magazine for its January 1995 issue. Steven Spielberg, who directed her in E.T. the Extra-Terrestrial and who also is his godfather, gave her a quilt for her 20th birthday with a note that read: "Cover yourself up."
In the mid to late 1990s, she starred in the feature films Boys on the Side (1995), Wishful Thinking (1997), The Wedding Singer (1998), Home Fries (1998) and Ever After (1998). During this time, she also created the production company Flower Films with business partner Nancy Juvonen.
The first movie the company had produced was 1999's Never Been Kissed. The second picture the company went on to produce was Charlie's Angels in 2000, which became a box office success. In 2003, she reprised her role of Dylan Sanders in Charlie's Angels: Full Throttle. That same year, she starred alongside Ben Stiller in the comedy Duplex.
The following year, Flower Films produced the romantic comedy 50 First Dates with her co-star Adam Sandler's company Happy Madison. Subsequent films in mid to late 2000s include Fever Pitch (2005), Music and Lyrics, (2007), Lucky You (2007) and He's Just Not That Into You (2009), among others.
Directorial Venture, Personal Relationships and Plastic Surgery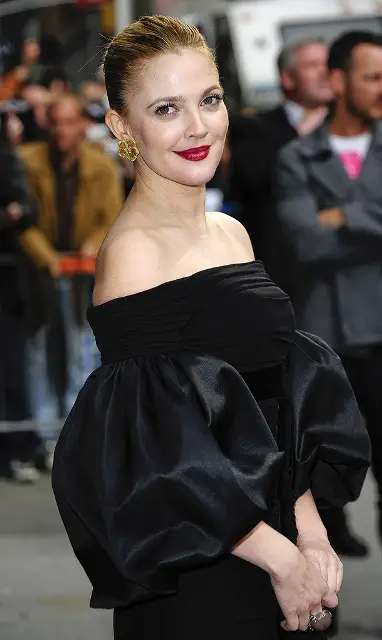 Also in 2009, she made her directorial debut with Whip It, starring Ellen Page and Marcia Gay Harden. The following year, she reunited with former flame Justin Long in the movie Going the Distance, which became a moderate success worldwide. She also starred in the 2012 film Big Miracle and will appear in the upcoming feature Blended, alongside her The Wedding Singer and 50 First Dates co-star Adam Sandler.
Despite her long-lasting fame in Hollywood, the 39-year-old actress has had her fair share of wild side particularly during her younger years. Probably this added to the strength of her overall character as she managed to return to the top despite her past. With this being said, one aspect that the press kept their eye onto was her romantic affairs.
In 1991, at the age of 16, she was engaged to Hollywood producer Leland Hayward's grandson Leland Hayward. The engagement was called off after a few months. This was followed by another relationship with actor Jamie Walters from 1992 to 1993. At the age of 19, she married her first husband Jeremy Thomas, bartender turned Los Angeles bar owner. She filed for divorce from him after two months.
In 1999, she started dating comedian Tom Green, became engaged in July 2000, and married in July 2001. However, Green filed for divorce from the actress in December that year. In 2002, she began dating The Strokes' drummer Fabrizio Moretti. Their relationship lasted five years. She then started dating actor Justin Long but has since broken up. She is now a mother of a daughter named Olive Barrymore Kopelman (born September 26, 2012) to husband Will Kopelman, an art consultant, the son of former Chanel CEO Arie Kopelman, whom she married on June 2, 2012.
In addition, she underwent breast reduction surgery in 1992. When asked about the subject, she said: "I really love my body and the way it is right now. There's something very awkward about women and their breasts because men look at them so much. When they're huge, you become very self-conscious. Your back hurts. You find that whatever you wear, you look heavy in. It's uncomfortable. I've learned something, though, about breasts through my years of pondering and pontificating, and that is: Men love them, and I love that."
She has also recently expressed her openness to plastic surgery in an interview with Elle magazine, where she said that if she'd want something done, she'll do it. She further explained: "I don't want to be vain or fearful, and I don't think I'll do anything, but if I want to do something, I will. From my perspective, there's no reasons to be afraid of aging, because if you age, you're lucky! The alternative is death."