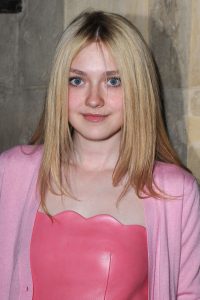 Hollywood star Dakota Fanning debuted at the age of 5 when she appeared in a commercial. Two years later, she starred as Sean Penn's daughter, Lucy Diamond Dawson, in the 2001 drama I Am Sam. Her role made her the youngest person to ever get a nomination for a Screen Actors Guild Award. The rest of the 2000s saw her performing in the films Trapped, Sweet Home Alabama, Uptown Girls, Man on Fire, Hide and Seek, Nine Lives, and War of the Worlds.
She then voiced Lilo in Lilo & Stitch 2: Stitch Has a Glitch. She later starred in Charlotte's Web and The Secret Life of Bees. She also starred as Allie Keys in the miniseries Taken. In 2009, she played Jane Volturi in The Twilight Saga: New Moon. She reprised her role in the sequels The Twilight Saga: Eclipse and The Twilight Saga: Breaking Dawn – Part 2. She went on to star in the movies The Motel Life, Now Is Good, Night Moves, and The Last of Robin Hood.
Fanning also portrayed Cherie Currie in The Runaways. In 2014, she played the title role in the film Effie Gray. She continued her film career with starring parts in the movies Every Secret Thing, The Benefactor, Brimstone, and Viena and the Fantomes. More recently, she played Penelope Stern in Ocean's 8 and Squeaky Fromme in Once Upon a Time in Hollywood. She also starred as Sara Howard in the period drama series The Alienist.
Apart from a healthy diet plan, the actress spends time to workout to improve her overall wellness. Coming from a family of athletes, staying active isn't something that's unnatural for her. "I like the high of feeling strong," said the actress.
"I try to work out six days a week. I love to do Cardio Barre, a ballet-inspired cardio class. I've been taking it since I was in high school, and I'm obsessed. I also started doing AKT [a dance-based cardio and strength workout]."