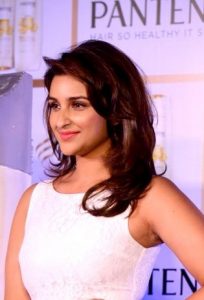 Indian celebrity Parineeti Chopra was first a public relations consultant for Yash Raj Films. With her remarkable beauty and strong screen presence, she was offered a contract as an actress. Her debut role in the film Ladies vs Ricky Bahl instantly got her noticed. She won a Filmfare Award for Best Female Debut for this. She was even nominated for the Best Supporting Actress Award. The following year, she starred in the romantic drama Ishaqzaade. This was also another critical and commercial success for her. For this, she got a Filmfare Award nomination for Best Actress. She even got the Special Mention at the National Film Awards. She received the same praise for her role in Shuddh Desi Romance. Her latest work was a cameo appearance in Dishoom.
Standing at around 5'6, the 28-year-old continues her successful acting career. Recently it can also be noticed that the actress lost weight. Of course a healthier weight looks great on her. Now she only needs to maintain this. That's why it becomes important for her to eat right and exercise as much as possible. Proper nutrition plays a more crucial role in the maintaining of her weight and boosting her energy levels. That's why she doesn't really eat unhealthy foods. She stays away from oily, starchy or sugar meals.
In eating right, she follows a healthy diet plan. In the morning, she eats a healthy breakfast. This usually consists of brown bread with butter, sugar-free milk and two egg whites. For lunch, she has brown rice, dal, roti and green vegetables. For dinner, she has low fat foods cooked in little oil. She also drinks sugar-free milk and indulges in something tasty with chocolate shake. She also eats healthy snacks. This includes nuts, yogurt and fruits. Lastly, the actress believes in the importance of portion control. So, she always eats in moderation.