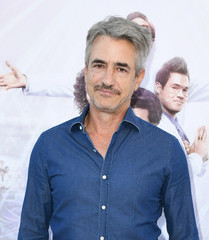 Hollywood actor Dermot Mulroney began his work during the '80s. His first cinematic role was as Michael Alperin in the 1988 film Sunset. That same year, he gained notice for playing Dirty Steve Stephens in the movie Young Guns. During this period, he also acted in some television films. In the '90s, his career flourished with supporting/starring roles in many films, including Career Opportunities, Where the Day Takes You, Point of No Return, and Bad Girls, among others.
He went on to star in How to Make an American Quilt and Bastard Out of Carolina before rising to bigger fame in My Best Friend's Wedding. In the 2000s, he played Gavin Mitchell in some episodes of Friends. He also starred in the films The Safety of Objects, The Wedding Date, Must Love Dogs, The Family Stone, Zodiac, Georgia Rule, and Burn After Reading. Later in the 2010s, Mulroney played Russell Schiller in several episodes of New Girl.
He went on to play more notable roles on TV. He starred as Francis Gibson in Crisis, Sean Pierce in Shameless, Andrew Walsh in Mozart in the Jungle, and Dr. Walter Wallace in Pure Genius. From 2018 to 2019, he starred as Bobby Sheridan in The Purge. Afterward, he played recurring characters in The Righteous Gemstones and Four Weddings and a Funeral. He recently appeared as Nicholas Endicott in Fox's Prodigal Son.
In addition to his workout routine, Dermot Mulroney keeps himself in top shape by eating right. He has since cut back on carbs and focuses on healthy foods like lean meat and vegetables. "I just stopped eating bread, salt, and sugar and I miss sugar the most. I don't miss bread at all," said the actor. He's serious about eating bread-free that he never eats hamburgers with the bread. That's just one of his simple tricks to looking and feeling good in his 50s.