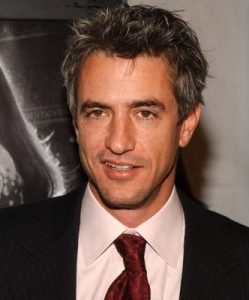 Dermot Mulroney debuted in the 1986 CBS TV movie Sin of Innocence, followed by more TV films. Later in 1988, he made his cinematic debut in the film Sunset. He appeared in a couple more films before that decade ended. He also became noticed for his role in 1988's Young Guns. In the 1990s, he had roles in several films, including Bright Angel, Career Opportunities, Where the Day Takes You, The Thing Called Love, and Bad Girls.
Later he gained notice for his works in How to Make an American Quilt and Bastard Out of Carolina. In 1997, he rose to fame for his role as Michael O'Neal in the box-office hit romantic comedy film My Best Friend's Wedding. Later in the 2000s, he played Gavin Mitchell in 3 episodes of Friends. During this period, he had supporting/starring roles in such films as The Safety of Objects, Must Love Dogs, The Family Stone, Dante's Inferno, Zodiac, Georgia Rule, Jolene, and Burn After Reading.
In the 2010s, he had a recurring character in New Girl, playing the role of Russell Schiller. He also played Jeff Flender in Enlightened, as well as starred as Francis Gibson in Crisis. From 2015 to 2017, he played Sean Pierce in Shameless. At the same time, he starred as Dr. Walter Wallace in Pure Genius. As of 2018, he plays Bobby Sheridan in The Purge. Mulroney also has recurring roles in The Righteous Gemstones and Four Weddings and a Funeral. He recently starred in 2019's The Courier.
At age 56, Dermot Mulroney knows how to take care of his body. He follows a consistent workout routine that includes cardio and resistance training. Discipline is a crucial aspect in his road to fitness. When busy, the actor squeezes in some time for his workouts. He also loves sports and fun activities like hiking. The actor also mixes things up to always feel motivated and challenged.