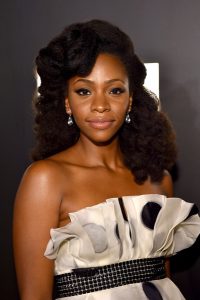 Hollywood star Teyonah Parris had her career beginnings in the 2010s. She made her debut on television, in an episode of The Good Wife. During her initial work as an actress, she also performed in a few short films. She went on to make her film debut in How Do You Know.
In 2012, she gained recognition for her recurring role as Dawn Chambers on Mad Men. She played the role until 2015. At the same time, she guest-starred in an episode of CSI: Crime Scene Investigation, as well as starred as Missy Vaughn on the show Survivor's Remorse. It aired on Starz from 2014-2017.
During this period, she also gained recognition for her role as Colandrea 'Coco' Conners in the 2014 film Dear White People. Subsequently, she had roles in the films They Came Together, Five Nights in Maine, and Where Children Play. She next garnered substantial attention for her role as Lysistrata in Spike Lee's 2015 movie Chi-Raq.
Following this, she played the titular character in the film Love Under New Management: The Miki Howard Story, where she also served as producer. In 2017, she played recurring character Detective Pamela Rose on the Fox series Empire. Her latest role was in the 2018 film If Beale Street Could Talk.
The 31-year-old actress doesn't follow any strict diet plan. She loves food so she allows herself to have her fun. Nonetheless, she also acknowledges the importance of being more cautious when it comes to her eating habits.
"I love food, so I eat it. And fitness? No—I don't stick to anybody's fitness plan. Because of that, I try to be more mindful about how much and how often I'm eating, but I like to eat and that's just what it is," said the actress. Fortunately, she's not really into junk foods so she has no trouble staying away from it.
"I like to sit down to a meal. I'll come here [to Blujeen] and have salmon, mac and cheese, and collard greens. To me that's not junk food; junk food is like candy or chips. And I cook. I'm trying to be more mindful [about my diet] and incorporate more vegetables because I do not like working out," she added.