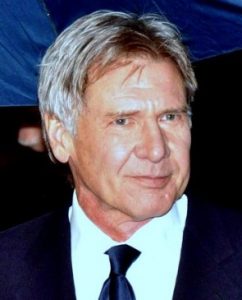 Harrison Ford's long-standing Hollywood career started in the 1967 film A Time for Killing. After starring in the 1970s films American Graffiti and The Conversation, Ford rose to fame for starring as Han Solo in 1977's Star Wars. The following decade, he reprised his role as Han Solo in the sequels The Empire Strikes Back and Return of the Jedi. During this period, he also came to prominence for playing Indiana Jones in Raiders of the Lost Ark.
He has since starred in Indiana Jones and the Temple of Doom and Indiana Jones and the Last Crusade. His Hollywood career in the 1990s further flourished with lead roles in several major films. Some of these are as Jack Ryan in Patriot Games and Clear and Present Danger, Dr. Richard David Kimble in The Fugitive, President James Marshall in Air Force One, and Quinn Harris in Six Days, Seven Nights.
In the 2000s, he starred in the supernatural horror film What Lies Beneath, the action comedy film Hollywood Homicide, and crime thriller Firewall. In 2008, he reprised his role as Indiana Jones in Indiana Jones and the Kingdom of the Crystal Skull. More recently in the 2010s, the actor continued his prolific film career. He had lead performances in Extraordinary Measures, Morning Glory, and Cowboys & Aliens. He also reprised his role as Han Solo in 2015's Star Wars: The Force Awakens and Rick Deckard in Blade Runner 2049.
Already in his 70s, Harrison Ford is not one to quit. In fact, he's to reprise his role as Indiana Jones in the upcoming sequel Indiana Jones 5. Apparently, the film is supposed to be very physical and it's reported that the actor is still up to doing his own stunts.
He keeps himself fit and healthy by eating clean and working out. "I believe in training for injury prevention more than anything else," said the actor. "I had an exercise trailer rigged for me, and I worked out every single day before going to work. And I was lucky enough not to become injured at all," he added. According to his trainer, the Harrison Ford workout routine aims to help his reflexes and general body conditioning. The actor also exercises using dumb bells and medicine balls to build his core strength.