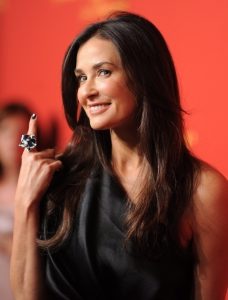 Demi Moore first made a name for herself courtesy of her role on the medical soap opera General Hospital. She then transitioned to the big screen with notable performances in the films Blame it on Rio and St. Elmo's Fire. These two movies garnered her mainstream notice. Afterwardsm, she starred in About Last Night, further earning her stardom. However, it was her lead role in the romance-fantasy film Ghost, that brought her to international attention as the film was a suprise box office hit in 1990. Her performance in the said feature also earned her a Golden Globe nomination for Best Actress. For the rest of the 1990s, she starred in the films The Butcher's Wife, A Few Good Men, Indecent Proposal, The Scarlet Letter, Striptease, and G.I. Jane, among others. This made her the highest-paid actress in film history in 1996. Her career got slower in the 2000s, with her roles in major films decreasing. During this time, she only had notable roles in Charlie'S Angels: Full Throttle, Bobby, Mr. Brooks, and The Joneses. In the 2010s, she mostly acted in low-budget and indie movies.
The actress, despite her career's apparent decline is still a sight for sore eyes. She's already in her 50s but many would agree that she can still level to the attractiveness of young women as she has this charm and fierceness within her. No wonder she made Ashton Kutcher who's several years younger than her fall in love with her, or at least that was before since they had since separated. The point is, she's still attractive despite her age and any man, regardless of his age, finds her gorgeous still. So, what's Demi's secret in achieving a kick-ass body that inspires other women her age and sends a message that age is just a number.
By now, we already know that she eats right, only clean and nutritious food to be consumed by her body regularly. But that's not only that. Aside from her disciplined diet plan, she also makes sure she works out regularly to make sure she stays in shape. Not only does she want to look fit, she also wants to feel healthy on the inside and the outside. Basically, she allots time to do cardio exercises, if possible on a daily basis. She does this through running and swimming. Even taking long walks can be considered as a healthy exercise. She also makes it a point to practice a more active lifestlye. Being a mother and an occasional actress, she doesn't find it hard to exert her physical efforts, so this also helps her a lot to shed those unwanted pounds.