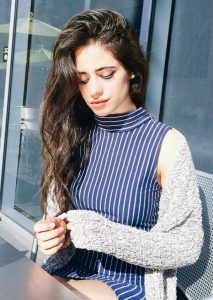 Cuban-American singer and performer Camila Cabello first auditioned onThe X Factor's second season. It was there that she was put in a group with four other female contestants in what would be the girl group Fifth Harmony. After the competition, they signed up with two music labels and released two albums. In 2016, she left the group to pursue a solo career, including collaborations with other artists.
This includes the single "Bad Things" with Machine Gun Kelly. She then released her first solo single "Crying in the Club". This year, she released her first solo album Camila, which reached atop the US Billboard 200. Its lead single "Havana" also reached Number 1 in several countries. She's also appeared as herself in such shows as Faking It, Barbie: Life in the Dreamhouse, and Dancing on Ice.
The 21-year-old singer has a slender figure but Camila admits that she doesn't always follow a healthy diet plan. Camila is actually still in the age where she just enjoys food and eats whatever she wants, not worrying about gaining weight since she still has a fast metabolism. On the other hand, the celebrity also is aware that she needs to stick to nutritious foods most of the time, she just finds it hard to do so. In an interview, she got candid about her eating habits.
She said: For me, sometimes, I try to. I go through a phase where I try to and then I'm like, 'oh, I miss Five Guys', which is a burger chain. I've had Five Guys about, like, five times this week. Life is too short and you'll make it shorter if you eat Five Guys, but whatever!" Nonetheless, she chooses a healthy breakfast most times. She said she prefers eating Special K cereal with strawberries to keep her full of energy throughout the day.