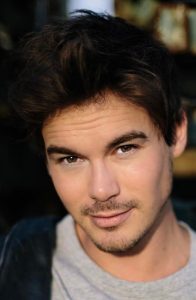 Hollywood actor Tyler Blackburn first appeared as Nathan in 2 episodes of Unfabulous. In the movies, his first role was in the 2008 low-budget film Next of Kin. After a one-episode role in Cold Case, he had his first recurring role on TV as Ian in Days of Our Lives. At the same time, he guest-starred in Gigantic. In the 2010s, he first appeared in the movie Peach Plum Pear.
That same year, he landed the role of Caleb Rivers in Pretty Little Liars. Starting out as a recurring character, he became a main cast member between seasons 3 and 7. He starred on the TV show between 2011 and 2017, earning him mainstream recognition. At the same time, he starred in the direct-to-video movie Hiding. He later starred in the 2016 film Love Is All You Need? and played Jack in Hello Again.
Back on TV, he reprised his role as Caleb in the short-lived Pretty Little Liars spin-off Ravenswood. As of 2019, he stars as Capt. Alex Manes in the new series Roswell, New Mexico. Also, he guest-starred in the remake of Charmed and starred in the TV movie Capsized: Blood in the Water. He will star in the upcoming feature film Asbury Park.
To stay in shape, the actor works out and eats right. Reports said that he's not much fan of intense physical training. Nevertheless, he keeps his body fit and healthy through proper nutrition. Right now, his diet plan is one that consists of lean proteins, healthy fats, complex carbs, and plenty of greens.
He gets his protein from healthier options like fish and chicken though he enjoys a good steak once in a while. He snacks on fruits and increases his intake through juices and smoothies. The actor indulges in his cravings from time to time, which is usually pizza, burgers, and beer.