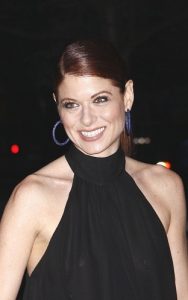 It was in 1994 that Hollywood star Debra Messing got her career start. She debuted in 3 episodes of the television series NYPD Blue. She next made her cinematic debut as Betty Sutton in the romantic drama film A Walk in the Clouds. From 1995 to 1997, she was noticed for her role as Stacey Colbert on the sitcom Ned & Stacey. It was, however, role as Grace Adler on the sitcom Will & Grace that made her a star. The show aired on NBC from 1998 to 2006. Simultaneously, she portrayed Mary Magdalene in the film Jesus.
In the 2000s, she had roles in the movies The Mothman Prophecies, Hollywood Ending, Along Came Polly, and The Wedding Date. After Will & Grace ended, she starred as Molly Kagan on the short-lived series The Starter Wife. She also starred in the films Purple Violets, Lucky You, The Women, and Nothing like the Holidays. In the 2010s, she starred as Julia Houston on the short-lived musical drama series Smash. She later landed the lead role of Detective Laura Diamond on the NBC series The Mysteries of Laura, which aired from 2014 to 2016. She's also starred in the movies Like Sunday, Like Rain and Searching. Her most recent work on television was as Marjorie Houseman on the TV film Dirty Dancing.
She's already in her 40s but it's amazing how Messing is able to maintain her slender figure. Interestingly, the actress does not really work out. She does exercise but she doesn't spend so much time working out. Instead, she stays healthy by eating a clean diet. She realized she doesn't need to push herself too hard just to lose weight after giving birth.
Losing the post-baby weight is always tough and the actress is no exemption. "It helped me drop the first few pounds, but I was exhausted," she said about working with a trainer. She then said: " I couldn't work out three hours a day and do my job as a mother and an actress. So I took the pressure off: I cut back on seeing the trainer but started eating healthier." Of course, the actress still does some cardio and stays active by playing sports and other outdoor activities — if she has time.