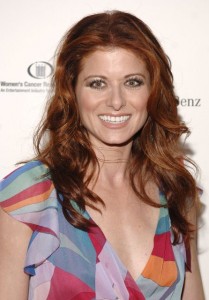 American actress Debra Messing has long been a household name ever since playing Grace Adler in the ever popular sitcom Will & Grace, which not only brought her commercial success, but critical acclaim as well, for which she won an Emmy Award for Outstanding Lead Actress in a Comedy Series in 2003. She was highly popular among viewers during the show's eight-season run. Simultaneously, she starred in a few movies, like Along Came Polly and The Wedding Date. After Will & Grace, she starred on the miniseries The Starter Wife, which again earned her critical acclaim and an Emmy nomination for the lead actress category. After taking a hiatus in the late 2000s, she made her comeback in the short-lived series Smash in 2012. As of 2014, she stars as the lead on the TV series The Mysteries of Laura. Her most recent work o n the big screen was in Like Sunday, Like Rain, released in 2014.
47-year-old actress Debra Messing surely looks younger than her actual age. Having spawned an acting career of more than a decade successfully, she continues to work on the small screen as a lead star. Despite motherhood and starting a family, Debra remains unstoppable in her quest for greatness in the acting industry. With her busy career and being a mom, how does someone like Debra maintain her health and amazing physical features at the same time? For one, she practices a sugar-free diet, removing alcohol, caffeine, sugar, and foods containing gluten from her diet.
This was also because she suffered from various allergies. To maintain her healthy and radiant skin, she mostly eats clean and organic foods, too. Also, Debra stays away from junk foods. Before, she was fond of eating pizza, French fries, potato chips, and the likes, but after feeling the adverse effects of unhealthy foods, swore to get rid of them for good. She has since adopted a healthy eating lifestyle, mostly eating fruits and veggies. She mostly begins her day with smoothies made up of kale, spinach, ginger, celery, cucumber, and lemon.