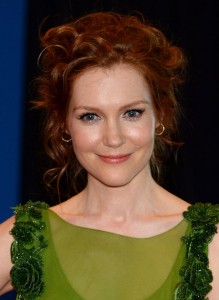 American actress Darby Stanchfield was already in her late 20s when she began an acting career on television. While starting out, she mostly appeared in one-episode roles in many TV show until eventually making her movie debut in The Picture of Dorian Gray released in 2005. A year after that, she played her first notable role on TV, as April Green in Jericho. Next, she appeared in ten episodes of General Hospital then became known as Helen Bishop in Mad Men. She's also known among NCIS fans as Shannon Gibbs. Her most high-profile role, however, is Abby Whelan in Scandal, a character she started portraying in 2012. It has since earned her mainstream prominence among audiences worldwide. She will star in the upcoming adventure movie Rendezvous.
The 44-year-old actress looks youthful despite the fact that she's already in her 40s. Standing at 5'7, she's also notably very slender. With her physical features, you can easily mistake her for a woman in her 30s. It's also amazing that Darby mainly credits her healthy habits as the reason why she looks glowing. Being in her 40s, she sure is an expert when it comes to taking care of herself. She hasukas learned valuable lessons about which habits to adopt or which lifestyle to avoid to maintain to achieve a sense of harmony inside and out.
When it comes to her inner body's needs, the actress knows how to listen. She mostly loads herself up with healthy foods like lean meat, veggies, fruits, green juices, and many other nutritious delicacies to feel healthy inside and out. It's also crucial for her to be more health conscious because ageing takes its toll. When it comes to snacks, she avoids processed and fast food items and focus on eating nuts, fruits, and yogurt. She does have cravings, like any normal person, but she makes sure she practices portion control. She basically implements moderation as part of her eating habits.