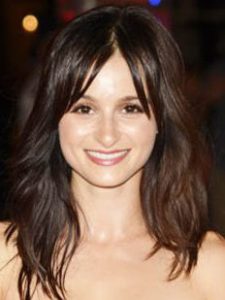 Melanie Papalia debuted in an episode of Cold Squad in 2003. She next made one-time roles in Smallville and Killer Instinct. Her first recurring role was as Casey Whelan in the crime drama series Intelligence. Afterward, she landed several guest appearances on television. She had one-episode characters in such TV shows as Godiva's, Saved, Blade: The Series, and Aliens in America. In addition, Papalia had recurring parts as Amanda Worth in Painkiller Jane and Sandra in The Assistants.
On the big screen, she had her first movie role in 2007's Postal. Later, she played a role in the film Dancing Trees. The actress also starred in the direct-to-video feature American Pie Presents: The Book of Love. In the 2010s, she starred in the TV movie Freshman Father. She simultaneously had performances in the films Frankie & Alice, Super Hybrid, Smiley, The Den, and Extraterrestrial. In 2016, she appeared as a minor character in the film Hell or High Water. Back on television, she played recurring part Amy in Suits. As of 2016, she stars as Nina in the Canadian series You Me Her, which has since gained her wider recognition.
To maintain her healthy figure, the Canadian star follows a clean, balanced diet plan. While she doesn't believe in any fad diets, she makes sure that she eats right by choosing her foods well. Her healthy lifestyle involves cutting back on sugar and salt. That's why she rarely eats fast food and anything processed. Instead, she has whole foods which mostly are lean meat and healthy fats with salad on the side. She has plenty of veggies on a daily basis, too. She avoids binge-eating as moderation is also part of her diet. When she's busy working, she snacks on filling foods like nuts, fruits, and yogurt to avoid getting hungry so frequently.