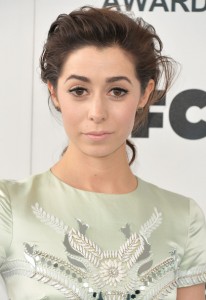 American actress Cristin Milioti started acting professionally both on stage and television in 2006 when she was in her early 20s. Around the same time, she landed her first recurring character in the award-winning show The Sopranos. In the next few years, she was more active acting on the stage than on the screen. This changed a bit in the 2010s when she appeared in three movies in 2012 and by the following year, she was already recognized for her role in the comedy series How I Met Your Mother, which first exposed her to mainstream audiences. That same time, she played Leonardo DiCaprio's first wife in The Wolf of Wall Street. After these high-profile acting gigs, she landed her first lead role on television, in the romantic comedy TV series A to Z, though it didn't last long. Her most recent roles on the small screen were in The Mindy Project and Fargo. She's still active as a stage actress, too.
It only took one notable role for Cristin to achieve her break on the screen, to play the Mother in How I Met Your Mother. After this, she pretty much became a familiar face among television viewers, which deemed easier for her to work on other television projects. Her stage background has definitely helped her prepare take this iconic role, too. For one, the actress has a remarkably cute face and an incredible knack for acting. Now that she's in her 30s, she takes taking care of herself inside and out more seriously.
For one, Cristin is a big believer of eating clean and healthy. She also thinks that making this lifestyle a habit is not as hard as it seems basically because of the fact that you feel good when you eat nutritious foods. Of course, she understands that there's also the need to give in to cravings from time to time. As a foodie, she does both. She regularly eats healthy, her diet mainly consists of fish, chicken, veggies, and fruits, and imposes a cheat day to eat pizza and chips at the same time. This way, she achieves her health goals without sacrificing the joy she gets from food.