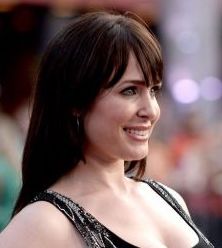 Hollywood star Danielle Bisutti started her career in the early 2000s. She first appeared in the 2001 film Automatic. She later made one-time appearances in Dharma & Greg and Miss Match and went on to make some more. Later in 2004, she had a role in the film Tropix. At the same time, she appeared as Joan in 5 episodes of The O.C. She next made guest roles in Twenty Good Years, Courting Alex, Two and a Half Men, Shark and Cold Case.
The actress then made a notable guest role as Terri Long in Without a Trace. Her first starring role on television was as Amanda Cantwell in the Nickelodeon series True Jackson, VP, which aired from 2008 to 2011. During this period, she also appeared in the feature films Get Smart and No Greater Love. After True Jackson, VP, she played Prof. Linda Lonegan in 2 episodes of Parks and Recreation.
She then played the role of Barb Pierce in the film Curse of Chucky and Michelle Crane in the supernatural horror film Insidious: Chapter 2. She also continued making one-time roles on television, including in CSI: Miami, Last Man Standing, Criminal Minds, Grey's Anatomy, and many others. She recently starred in the made-for-television film Nanny Killer.
Already in her 40s, the film and TV actress maintains a healthy body by being mindful of her food choices. She's not into processed foods, at least not anymore. She listens to what her body needs, which, of course, require nutritious foods. Even with her healthy food preference, she's loves to eat. In an interview, she shared she loves Italian food the most.
"Anything Italian. Other than that pretty much EVERYTHING under the sun- I am a serious foodie! I prefer organic, whole foods but have been known to stray and let my taste buds indulge in everything except fast-lazy-american-processed-greasy-food. No bueno," said the actress.