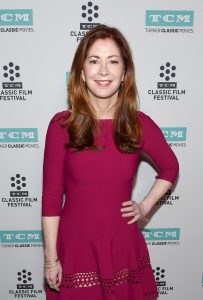 It was in 1978 that actress Dana Delany started her work in Hollywood. Her first starring role was as Amy Russell in the show Love of Life. At the beginning of the '80s, she starred as Hayley Wilson Hollister in the soap opera As the World Turns. She gained further recognition later with her role as Colleen McMurphy in the series China Beach. She also voiced Lois Lane in Superman: The Animated Series. She continued her work on television in the 2000s.
During this period, she starred as Catherine McAllister in Pasadena and Dr. Rae Brennan in Presidio Med. She returned to primetime fame when she starred as Katherine Mayfair in Desperate Housewives. In the 2010s, she starred as Dr. Megan Hunt in the series Body of Proof and recently played Crystal Harris in Hand of God. On the big screen, her latest movie is 2017's Literally, Right Before Aaron.
Surprisingly, the TV actress is already in her 60s. This doesn't show because of how she takes care of herself. Aside from following a healthy diet plan, Dana also makes sure that she has an active lifestyle through a regular workout routine. So, what does the Desperate Housewives star do to maintain her slender and toned figure? In an interview, she got candid about her exercise habits. She said:
"I exercise every day because it makes me feel good. I'll go to yoga class or if I'm shooting early, I'll just do the yoga by myself in my room before I go to work, or I'll go on the treadmill and walk with free weights." She also said that to avoid getting bored while running on the treadmill, she would watch her favorite shows. "I catch up on all my TiVo, and that's what gets me out of bed. I think, Ooh, I get to watch TV," she said.