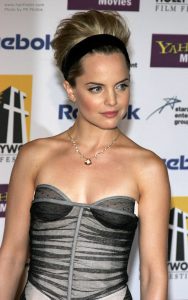 It was in 1995 that Hollywood star Mena Suvari got her start in the show business. Her debut was in the show Boy Meets World. She next appeared in four episodes of High Incident. Her first movie was in 1997's Kiss the Girls. She then came to wider prominence thanks to her role as Heather in the movie American Pie. She later became further known for starring as Angela Hayes in American Beauty.
In the 2000s, she starred in the movies American Virgin, The Musketeer, Sugar & Spice, Trauma, Rumor Has It, Domino, Beauty Shop, Factory Girl, and Day of the Dead. She also appeared as Edie in 7 episodes of Six Feet Under. In the 2010s, she had roles in the movies You May Not Kiss the Bride, American Reunion, Don't Blink, and The Opposite Sex. She also starred in the short-lived series South of Hell and appeared as Isabelle Thomasin 7 episodes of Chicago Fire.
The 39-year-old actress has an active physical lifestyle. She works out regularly and explores other ways that she can stay in shape. Some of her go-to workouts are yoga and cardio. She's also not scared of lifting weights, unlike many women. She said: "Women need to not be afraid of lifting weights because they help you be toned." She's also working with a trainer to help her workout properly. She said that before her trainer, her ways of working out were not right.
Talking about it, she said: "I've been working out in so many different areas my whole life but I learned so much from her and it's so inspiring. I go to the gym and I see women who are a little misguided. She added: Working out doesn't have to be…a chore. In this day and age, we all need to be inspired to be the best we can be and stay healthy."