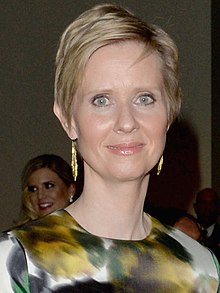 Hollywood star Cynthia Nixon had her career beginnings in 1980, debuting in the film Little Darlings. She next had roles in the movies Prince of the City, Amadeus, and The Manhattan Project, among others. On television, she first starred as Alex Tanner in the miniseries Tanner '88. In the '90s, she had performances in the films The Pelican Brief, Addams Family Values, and Baby's Day Out. She then gained her mainstream breakthrough as Miranda Hobbes in Sex and the City, playing the role from 1998 to 2004.
After this, she reprised her role as Alex Tanner in Tanner on Tanner. Also in the 2000s, she had performances in the films Igby Goes Down, Little Manhattan, and The Babysitters. She reprised her role as Miranda Hobbes in 2008's Sex and the City: The Movie and in its sequel Sex and the City 2. Nixon also portrayed Penny Arcade in the film An Englishman in New York. From 2010 to 2011, she starred as Rebecca in the short-lived series The Big C.
She next portrayed Michele Davis in the HBO TV movie Too Big to Fail. She went on to have notable roles in such shows as World Without End, Alpha House, and Hannibal. In 2016, she portrayed Nancy Reagan in the TV movie Killing Reagan. This year, she starred as Gwendolyn Briggs in the new web series Ratched. The actress also portrayed Emily Dickinson in the biographical film A Quiet Passion. She recently appeared in the 2019 film Stray Dolls.
Cynthia Nixon maintains her good health by eating well. She starts her day with a healthy breakfast, which also helps her avoid unhealthy meals throughout the day. "I always like to start my morning with a good amount of fruit. I really like pineapple, particularly because of the enzymes that it has," said the actress. "Sometimes I have oatmeal. But if I'm feeling like I really want to be watching my weight more, then I definitely do a protein, like an omelet, scrambled eggs or some smoked salmon."