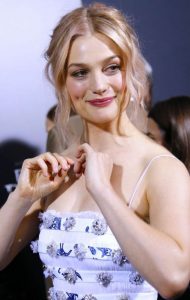 Hollywood singer and actress Alison Sudol initially debuted in the 1997 film Here Dies Another Day. She continued her acting career in the 2000s, appearing in the movie The Gray in Between. She later landed a one-time role in CSI:NY. As a singer, she's known for her name as A Fine Frenzy. She released her debut studio album One Cell in the Sea in 2007. It spawned the single "Almost Lover". Her second album, Bomb in a Birdcage, was released in 2009. Her latest album, Pines, was released in 2012.
After this, she became more focused on her acting career. In 2014, she played the recurring role of Kaya on the TV series Transparent. She next starred as Emma Wilson on the short-lived series Dig. In 2016, she gained mainstream recognition for playing Queenie Goldstein in the film Fantastic Beasts and Where to Find Them. That same year, she starred in the drama feature Between Us. She recently reprised her role as Queenie in Fantastic Beasts: The Crimes of Grindelwald. She will star in the upcoming war drama film The Last Full Measure.
The celebrity stays healthy by following a clean diet plan. She has a selective diet where she mostly avoids meat and anything processed. While it's surely good for her body, it's also proven to be a challenge when she's touring. "I have a really strange diet where I don't eat meat, so I eat fish and tofu, etc for health reasons and because I'm a big animal lover. And there are times when I'm in the middle of nowhere and I'm thinking "I'm just gonna eat a bun with some lettuce on it and some fries or something," she explained. She's also big on fiber-rich foods such as fruits and veggies. Plus she drinks plenty of water to keep herself hydrated at all times.