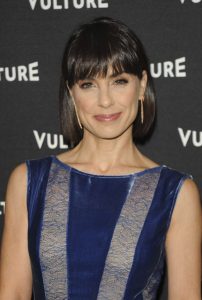 Constance Zimmer's Hollywood beginnings happened in the 1990s. Starting her career in some shows and TV movies, as well as a few films, she has since established a career as an actress, particularly on television, though it took her awhile. Her first starring role only came in the 2000s, playing Penelope "Penny" Barnes Barrington in the show Good Morning, Miami. She next appeared as Sister Lilly Watters in Joan of Arcadia.
She later starred in the short-lived series In Justice. Further success came when she played Claire Simms in Boston Legal and Dana Gordon in Entourage. In the 2010s, she had recurring roles in Love Bites, Grey's Anatomy, and The Newsroom. She then gained wider recognition for playing Janine Skorsky in the Netflix series House of Cards. In 2015, she started starring in the Lifetime series UnREAL as Quinn King. She has also played Rosalind Price in Agents of S.H.I.E.L.D.
When it comes to her health and fitness, Constance Zimmer does the right thing. This means she follows a healthy lifestyle, which includes sticking to proper nutrition. In terms of maintaining a svelte and a toned physique, she knows that working out is not enough. She also needs to be able to eat properly. At the same time, she doesn't deprive herself of food. For her, it's all about staying balanced. That's pretty much her secret.
"I love to eat. I'm not one of those people that isn't eating. It's everything in moderation – pasta, pizza, burgers – I eat it all!" she said in an interview. She applies balance in her diet plan by doing a one-day juice cleanse twice a month. She even tries her best to have a meatless day per week. "I think that's super important for our bodies and for the environment as well," she was noted saying.