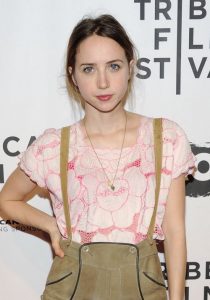 Hollywood actress and writer Zoe Kazan started acting in the early 2000s. Her first movie role was in Swordswallowers and Thin Men. Meanwhile, she made her TV debut in Medium. She later had roles in the films The Savages, Fracture, In the Valley of Elah, August, Me and Orson Welles, and Revolutionary Road. She later starred in the movie The Private Lives of Pippa Lee.
This was followed by I Hate Valentine's Day, It's Complicated and happythankyoumoreplease. In 2012, she played the lead in the movie Ruby Sparks, which she also wrote. She has since starred in the films The Pretty One, What If, In Your Eyes, Our Brand Is Crisis, The Monster, and The Big Sick. She recently co-wrote the movie Wildlife. She will also star in the upcoming series The Ballad of Buster Scruggs.
In an interview, the actress talked about her struggle with an eating disorder when she was younger. "I had gotten in the habit of believing it was better to take up less space. When I met the boy I fell in love with, I was a year into this disease and subsisting on less than 500 calories a day," she revealed. She went on to say: "In sickness, I had constructed a mode of eating that relied heavily on props. Filling a plate and eating only the vegetables, for instance. With my boyfriend, I was eating real meals—but again, under his gaze."
She's all better now and enjoying a healthy body but she admitted that it wasn't easy. She shared: "I didn't get better all at once—it took years for me to stop counting calories, stop needing a system to get through a meal." Now the actress/writer is all about healthy eating. She focuses on foods that are rich in vitamins and minerals and goes easy when it comes to eating processed foods.