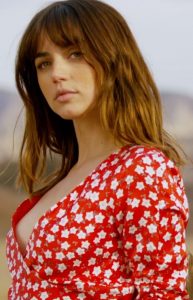 From the Spanish screens to Hollywood, Ana de Armas has since flourished in her acting career. Her first starring role was as Carolina Leal Solís in the telenovela El Internado, which aired on television from 2007 to 2010. On the big screen, she starred in the Spanish film Mentiras y Gordas. In the beginning of the 2010s, she continued working in local movies and shows.
Then in 2015, she made her Hollywood debut as Bel in the film Knock Knock. She next starred alongside Keanu Reeves in 2016's Exposed. She also had performances in War Dogs, Hands of Stone, and Overdrive. She then played Joi alongside Ryan Gosling in Blade Runner 2049, gaining her mainstream recognition. In 2019, she starred in the films Knives Out, The Informer, and Wasp Network.
For her role in Knives Out, she received a Golden Globe nomination for Best Actress in a Comedy or Musical. She will star as Paloma in the upcoming James Bond film No Time to Die. It was also announced that she will portray Marilyn Monroe in the upcoming biographical film Blonde. To add, she will star alongside Ben Affleck in another upcoming movie, Deep Water.
Ana de Armas stays in great shape by sticking to her workout routine. However, when it comes to diets, the actress admits it's hard for her to follow through. "The truth is that I'm not very disciplined with diets. In general, I do whatever makes me happy in life," said the actress. "And food makes me quite happy."
Nonetheless, she makes efforts to focus on healthy foods. While she doesn't follow any diets, she still makes sure she takes care of herself through healthy eating. For instance, she incorporates fruits and vegetables into her day-to-day. She also avoids sugary foods, which is why she limits her consumption of processed foods.