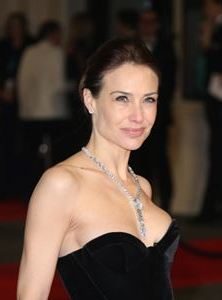 English actress Claire Forlani had her career beginnings in the early 1990s. During her early years, she appeared in the films Gypsy Eyes (debut), Police Academy: Mission to Moscow, Mallrats, and The Rock. She then gained further attention for playing the female lead in Meet Joe Black. In the 2000s, she continued her work in the movies with performances in Boys and Girls, The Medallion, and In the Name of the King.
It was also during this period that she played Dr. Peyton Driscoll in the TV series CSI: NY. In the 2010s, she played Queen Igraine in Camelot, Lauren Hunter in NCIS: Los Angeles, and Alicia Brown in Hawaii Five-0. She's also had roles in the movies Love's Kitchen, Another Me, and Precious Cargo. Her latest movie was in 2017's Crystal Inferno. Additionally, she had starred in the TV movie Carolina Moon, as well as in the miniseries False Witness and Ice.
The 46-year-old actress stays in shape by sticking to an active lifestyle. In an interview, Claire talked about her workout routine. She said: "I workout about an hour a day, six times a week. I run, hike, jump rope." It was also reported that she requested for a treadmill on the set of the movie Meet Joe Black. About this, she explained her need for the equipment:
"I really need it for my mental health. When you're in hotels, the gyms don't open at appropriate times or they only have two treadmills and somebody will be on it, and I only have 45 minutes before I have to be on set." She also loves running, which she does five miles per day, although she also admits that she doesn't run sometimes – at all. Overall, Claire lives a healthy lifestyle by practicing balance in everything she does and that includes regular exercise habits.