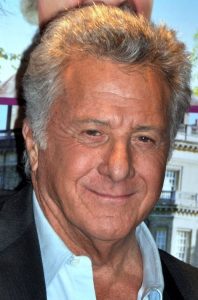 Hollywood actor Dustin Hoffman had his career beginnings in 1961 when he debuted in the television series Naked City. He next appeared in several TV movies before making his cinematic debut in the 1967 film The Tiger Makes Out. That same year, he had his breakout role as Ben Braddock in Mike Nichols' The Graduate. For his role, he received his first Academy Award nomination.
His performance as Enrico Salvatore "Ratso" Rizzo in the 1969 film Midnight Cowboy also earned him another Academy Award nomination. In the 1970s, his popularity grew with roles in such films as Little Big Man, Straw Dogs, Lenny, All the President's Men, and Marathon Man. His performance in the 1979 film Kramer vs. Kramer won him his first Academy Award for Best Actor. In the '80s, he starred in the films Tootsie, Rain Man, as well as portrayed William "Willy" Loman in the TV movie Death of a Salesman.
During the '90s, he played Captain Hook in Steven Spielberg's Hook and starred in the movies Outbreak, Sleepers, American Buffalo, and The Messenger: The Story of Joan of Arc. He went on to star in the films Moonlight Mile, Finding Neverland, I ♥ Huckabees, and The Lost City, among others. Hoffman continues his career in the 2010s, saying he never really wants to stop working. As such, he starred as Chester Bernstein in the HBO series Luck from 2011 to 2012. In 2016, he portrayed Giovanni de' Medici in Medici: Masters of Florence.
Dustin Hoffman maintains a healthy physique thanks to his active lifestyle. As part of his routine, he exercises to stay fit and strong. It's been long since he started incorporated working out into his day-to-day. Hence, doing workouts isn't something that poses an inconvenience. As for the kind of exercise that he does, he got candid in an interview. "I work out every morning, it's hard. I play tennis and injure myself from it, which happens more often. I jog and I do light weights," said the actor.