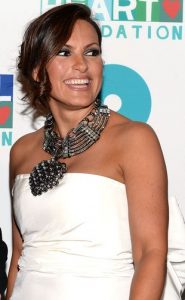 Hollywood star Mariska Hargitay had her career beginnings in the mid 1980s. During her initial years, she had roles in the films Ghoulies, Welcome to 18, and Jocks. She also made her TV debut on Downtown. She went on to play Carly Fixx on the show Falcon Crest. In the '90s, she first starred as Angela Garcia on Tequila and Bonetti. She next starred as Didi Edelstein on Can't Hurry Love. She next starred as Cynthia Hooper on ER. Her biggest role thus far is as Olivia Benson on Law & Order: Special Victims Unit, a role she still plays up to now. She's also reprised her role on Chicago P.D.. She's also starred in the movies Lake Placid and Perfume.
The actress is already in her 50s, but she still has a youthful glow. She's also able to sustain a fit body despite aging. But she's never been happier and healthier, saying: "Life begins at 40, and I'm living proof." Aside from working out and just being basically active in her life, the television star maintains her lean figure by eating healthy, mostly greens to be specific. She said: "It's all about green veggies for me." She's actually started practicing the Clean Program diet, which mainly consists of eating greens.
This diet regiment works for her, stating: "My skin has cleared up and I feel so healthy and vibrant." The said detoxifying diet concentrates on eating greens. The veggies here are served as side dishes to chicken, lamb, or fish that are caught in the wild. When asked about her favorite meal, she said it's "roasted lamb with rosemary and steamed asparagus and the roast salmon with broccoli rabe and quinoa." Thanks to her active lifestyle, as well as her clean and healthy eating habits, Mariska looks youthful than ever. She's also in the best shape a woman in her mid 50s can ever hope for.