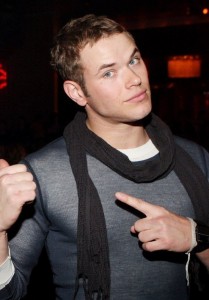 American model and actor Kellan Lutz just entered his 30s but it seems that his future in the show business keeps getting brighter. Starting his career as a contestant on a reality show, he eventually landed roles on television and on the big screen. Cinematic roles such as in Accepted, Stick It, and Prom Night were a good start. He also got noticed for his role in The Comeback, though it was his portrayal of Emmett Cullen in Twilight (2008) that earned him further recognition. The success of the movie secured his fame as a cinematic actor while also allowing him to be further exposed with him reprising his role in all the Twilight films. Outside the film series, he starred in such movies as A Nightmare on Elm Street, A Warrior's Heart, and portrayed Poseidon in Immortals (2011). He also became widely prominent for his portrayal of the titular characters in Tarzan (2013) and The Legend of Hercules (2014). His most recent work on the big screen are in The Expendables 3 and Experimenter.
30-year-old Kellan is getting more noticed for his roles in mostly action/fantasy/adventure movies, which somehow requires him to be really fit and strong to efficiently play his roles. Since Twilight, the actor was already known for his muscular body. Standing at 6'1, he really has a huge built. But for his subsequent roles in other action-oriented films where he played leading roles, Kellan has to work harder. Basically, his workout routine consists of resistance training, cardio, and plyometric exercises.
Interestingly, Kellan is noted for mixing his routine. Unlike other actors, he's not fond of sticking to a particular regimen. He usually begins his day by waking up early in the morning, like before 7 am, to go for a run. After this, he does some push-ups, run some more, push-ups again, and then pull-ups. However, he was required to improve his routine when he was cast for Immortals and The Legend of Hercules. Thus, he focused on doing weight lifting to gain extra muscle needed to play mythological characters.